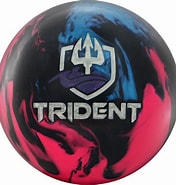 Motiv Bowling - Trident Horizon - Pink / Blue / White
$ 149.99 USD

$ 149.99 USD
---
---
2 - Available
SPEC'S
Retired

"This thing is so fun to throw!  I feel like it lets me do whatever I want to do on fresh", stated EJ Tackett about the new Trident™ Horizon.   Utilizing a hybrid edition of Coercion™ MXC cover technology, the Trident™ Horizon exudes strength, power, and incredible versatility. 
A solid version of Coercion™ MXC powers the impressive Forge™ Flare.  "It is so strong, that some high rev rate players are forced to use fiercely steep angles and sometimes throw it over the front of the lane to use it even on fresh", said PBA® Tour Rep Brett Spangler.  "It just makes sense to merge this phenomenal shell with a higher RG core and less aggressive finish."  And that is precisely the design focus behind the Trident Horizon.
Utilizing new Coercion™ MXC Hybrid Reactive cover technology, the Trident™ Horizon digs in the oil yet still manages to continue down lane to a degree that confounds many bowlers.  Tuned with a 4000 Grit LSS finish, it showcases more clearly the down lane motion potential of the Coercion™ MXC technology. 
To maximize continuation, the Trident™ Horizon utilizes the versatile asymmetric Sidewinder™ core.  Featuring a higher RG and lower intermediate differential, it clears the front of the lane much easier than the more powerful solid balls for heavier oil volumes and retains energy to provide ferocious continuation.       
SPECIFICATIONS
WEIGHT BLOCK                  

Sidewinder™ Asymmetric

COVER STOCK                    

Coercion™ MXC Hybrid Reactive

FINISH                                

4000 Grit LSS

WEIGHT RANGE                 

12, 13, 14, 15, 16
LENGTH                             

60

BACKEND                          

80

HOOK                                

70

FLARE POTENTIAL             

7"+