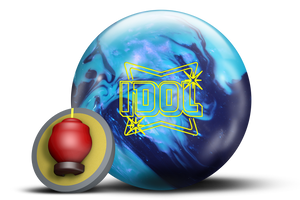 RotoGrip - Idol - Pearl
$ 225.00 USD

$ 225.00 USD
---
---
Release: November.23, 2018
0 - Available
SPEC'S
BE AN IDOL...
OverView
CORE...
Because you can never have too much of a good thing, the Ikon™ Core has changed the way everyone looks at the HP3 line. The low RG symmetrical shape with high differential not only provides plenty of flare throughout the lane, it also provides superb motion down lane and through the pins.
COVER...
With the original IDOL™ showcasing a solid cover built for heavy oil, we knew we needed something to compliment it. After a couple rounds of testing various pearl materials, we finally dialed in combination of the footprint in oil and responsiveness to friction. That is how the eTrax-P18™ Pearl Reactive coverstock was born.
CONDITION...
Hands down, this is the best pearlized ball we have ever created in the HP3 line to date. Between the core and cover, this ball will take down almost any condition you want to throw it on. Ideal for those Medium to Medium/Heavy conditions with some friction visible, this ball provides superb performance from almost any angle on the lane. And just like any pearl ball, it can be sanded to battle a bit more oil if need be.
| | |
| --- | --- |
| Coverstock Name | eTrax-P18™ |
| Coverstock Style | Pearl |
| Coverstock Type | Reactive |
| Weight Block | Ikon™ Core (Symmetrical) |
| Color | Royal / Amethyst |
| Finish | 1500-grit Polished |
| Finish Method | Can be sanded |
| Durometer | 73-75 on D-Scale |
| Flare Potential | High |
| Weights | 16lbs - 12lbs |
| SKU | RDP |
| Release Date | 11/23/18 |
WEIGHT
RADIUS OF
GYRATION
DIFFERENTIAL
PSA DIFFERENTIAL
16
2.49
0.049
n/a
15
2.49
0.052
n/a
14
2.54
0.049
n/a
13
2.59
0.045
n/a
12
2.65
0.035
n/a