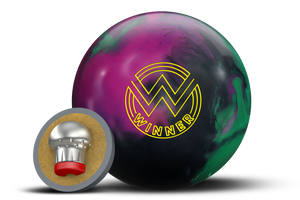 RotoGrip - Winner - Solid
$ 129.99 USD

$ 129.99 USD
---
---
Release: November.23, 2018
3 - Available
SPEC'S
| | | |
| --- | --- | --- |
| 15.4 | 3.25 | 3.5 - 4.0 |
| 15.4 | 2.88 | 3.0 - 3.5 |
| 15.4 | 3.09 | 3.0 - 3.5 |
WINNERS FOCUS ON WINNING...
OverView
CORE...
A proven "winner" in the first version, the Altered Hotshot™ Core provides the length and change of direction we were needing in the HP2 line.
COVER...
Just like the original Winner™ we calculated many tests to dial in the new VTC-S18™ Solid Coverstock. The major key was getting the ratios of materials just right to provide traction throughout the lane without gripping too early.
CONDITION...
This ball will excell on a little bit more oil for sure. Compared to the original Show Off™, the new Winner Solid will clear the front of the lane just a bit easier, yet will provide plenty of backend motion for a solid coverstock ball. I mean how can you go wrong with a ball named after what you are trying accomplish? Because we all know, winning never gets old!
| | |
| --- | --- |
| Coverstock Name | VTC-S18™ |
| Coverstock Style | Solid |
| Coverstock Type | Reactive |
| Weight Block | Altered Hotshot™ Core (Symmetrical) |
| Color | Black / Purple / Green |
| Finish | 3000-grit Pad |
| Finish Method | Can be polished |
| Durometer | 73-75 on D-Scale |
| Flare Potential | Medium |
| Weights | 16lbs - 10lbs |
| SKU | RWD |
| Release Date | 11/23/18 |
WEIGHT
RADIUS OF
GYRATION
DIFFERENTIAL
PSA DIFFERENTIAL
16
2.54
0.051
n/a
15
2.54
0.054
n/a
14
2.54
0.050
n/a
13
2.63
0.009
n/a
12
2.65
0.011
n/a
11
2.73
0.012
n/a
10
2.77
0.015
n/a