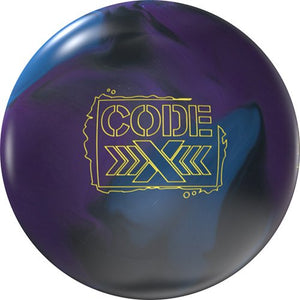 Storm - Code X - Black/Blue/Purple
$ 265.00 USD

$ 265.00 USD
---
---
1 - Available
SPEC'S
Weight - 15.4
Top Weight - 15.4

PIN - 3.0-3.5
Know the key to success with the Storm Code X bowling ball!
The RAD4 core has been making huge splashes in the industry, renowned for its motion and adaptability on the lanes. It makes its return in the Code X.
Encased in the R2S Solid Reactive coverstock sanded to a 3000-Grit Finish, the Code X makes its way easily through the heads and delivers more mid-lane read than the Code Red, making it ideal for heavier oil volumes, more even oil distributions and longer oil patterns.
Here's what Storm has to say about the Code X:
With an intermediate differential that's higher than any other ball in its line, the intuitive RAD4 Core provides pro shop professionals more fine-tuning possibilities for bowlers of all styles. At over 10% more midlane read than the Code Red, R2S Solid is a chassis that favors heavy oil. It's a perfect marriage between cover and core machined to precise specifications to achieve optimal performance no matter the condition you throw at it.
Code X Specs
| | | | |
| --- | --- | --- | --- |
| Product ID | 13851 | Brand | Storm |
| Perfect Scale Hook Rating | 235.3 | RG | 2.50 |
| Finish | Matte | Ball Color | Black/Blue/Purple |
| Lane Condition | Heavy | Coverstock | Solid Reactive |
| Ball Quality | First Quality | Ball Warranty | 1 Year |
| Factory Finish | 3000-Grit Abralon | Breakpoint Shape | Earlier Midlane Read |
| Coverstock Name | R2S Solid Reactive | Core Name | RAD4 |
| Differential | 0.058 | Durometer | 73-75 Rex D-Scale |
| Flare Potential | 6"+ (High) | Mass Bias Diff | 0.020 |
| Fragrance | Orange Zest | Core Type | Asymmetric |
| Performance | Pro Performance[10] | Storm Product Line | Premier |
| Release Date | 03/09/2018 |   |   |