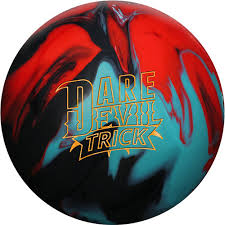 RotoGrip - Dare Devil "TRICK" - Black / Teal / Red
$ 210.00 USD

$ 210.00 USD
---
---
1 - Available
SPEC'S
OverView
The now famous Madcap™ Core is slowly taking over the world. It gets rolling in the midlane and continues like no other symmetrical shape Roto Grip has ever offered. There is no doubt this core will be around for a very long time!
Since we rolled out the pearl cover the first go round and with the current lineup of balls in the HP3™ line, a solid reactive coverstock was the perfect addition at this time. So we went to the lab and mixed up the brand new Reckless™ Solid coverstock in order to create more traction and responsiveness to friction.
Bottom line for those looking for a new benchmark ball, look no further. This ball is ideal for those Medium-Heavy to Heavy oil conditions. And don't worry this cover can easily be adjusted to conquer those lighter conditions as well.
Attributes
- Ball Color: Black/Teal/Red
- Lane Condition: Medium-Heavy
- Coverstock: Solid Reactive
- Ball Quality: First Quality
- Factory Finish: 2000-Grit Pad
- Breakpoint Shape: Mid-lane with Continuous Backend
- Coverstock Name: Reckless
- Durometer: 73-75 on D-Scale
- Flare Potential: Medium-High
- Performance: High Performance[8]
- Release Date: 03/14/2017