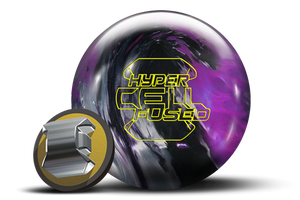 RotoGrip - Hyper Cell Fused -
$ 235.00 USD

$ 235.00 USD
---
---
1 - Available
SPEC'S
OverView
SYNTHESIS COMPLETE!
Why? Because this marks the first time in the history of forever that we have launched a polished hybrid version of a Cell in the United States market.
CORE...
Hands down, the Nucleus™ Core has to be the most forgiving and versatile asymmetrical core ever produced. No matter how you drill it or how you throw it, this core gets into motion and stays in motion.
COVER...
On the outside you will find one of our newest coverstock creations, better known as eTrax-H18™ (eTrax = Enhanced Traction). This new formulation has enhanced polymer technology in both the solid and the pearl thus making this the strongest hybrid coverstock released by Roto Grip to date!
CONDITION...
This ball will be sure to claim a spot in everyone's arsenal. Whether you leave it shiny out of the box, or you scuff it to gain more traction, the new Hyper Cell Fused will undoubtedly become a fan favorite on a variety of conditions.
Hyper Cell Fused™ Bowling Ball Technical / Specs


| | |
| --- | --- |
| Coverstock Name | eTrax-H18™ |
| Coverstock Style | Hybrid |
| Coverstock Type | Reactive |
| Weight Block | Nucleus™ Core (Asymmetrical) |
| Color | Jet Black / Silver / Violet |
| Finish | 1500-grit Polished |
| Finish Method | Can be sanded |
| Durometer | 73-75 on D-Scale |
| Flare Potential | High |